Feb 01, 2017
When Saeeda Etebari arrived in Washington, D.C. in the spring of 2016, it was her first visit to the United States. The journey from Afghanistan had been long and tiring, but presented no true hardship. That had come, earlier in her life, in spades: born in a refugee camp in Pakistan, she suffered through meningeal encephalitis as a week-old baby and could not walk until toddlerhood.
Saeeda's early illness also rendered her deaf. But it has not diminished the joy and curiosity for life she exudes even while standing in complete stillness, as she did one April day in the Smithsonian's International Gallery. She'd come to talk about jewelry—pieces she'd created for Turquoise Mountain: Art and Transformation in Afghanistan, an exhibit to showcase her work and that of a group of 18 Afghan artisans, graduates of a unique vocational school in Kabul, the Turquoise Mountain Institute.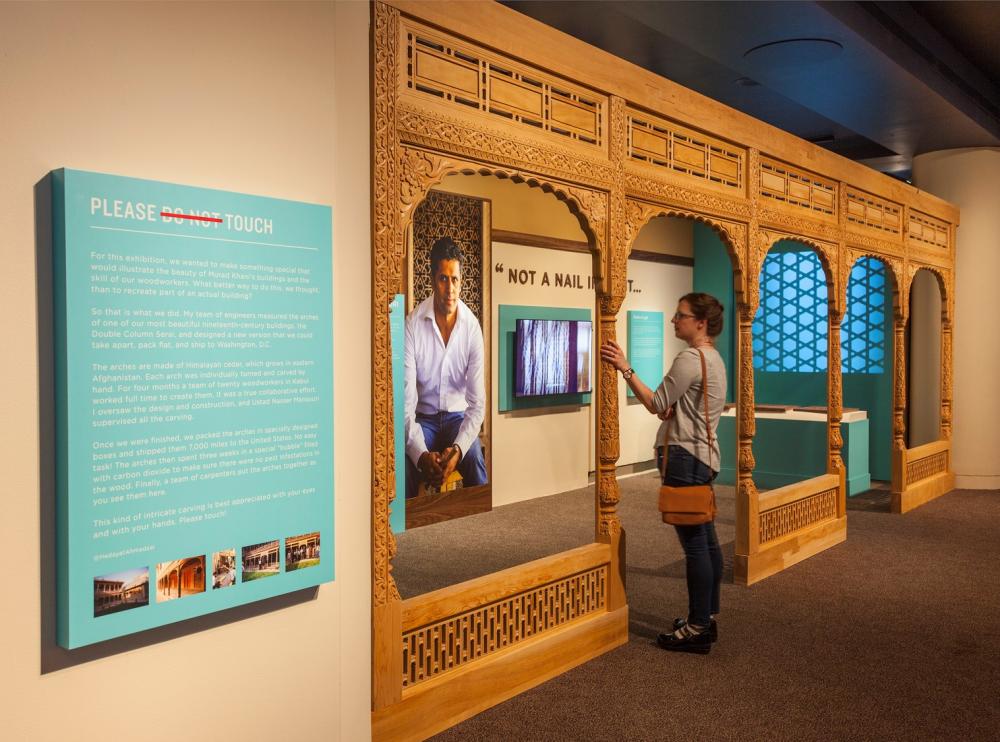 Speaking through a sign language interpreter, Saeeda said some within her community were initially skeptical of what Turquoise Mountain had to offer, but Saeeda persisted, investigating with the encouragement of her brother. Now considered one of Afghanistan's rising stars, she founded a women's arts collective of her own after graduating.
"Once Turquoise Mountain started to grow in popularity, people started to appreciate what they are doing," Saeeda said. "Then I began to be really proud of working with Turquoise Mountain instead of being afraid, and I'm glad I was able to learn this trade. They've really made an impact in the city."
Founded in 2006 at the request of Afghanistan's then-president Hamid Karzai and HRH The Prince of Wales, Turquoise Mountain was conceived of as a way to help restore and revive a historic cultural center in Kabul, Murad Khani, an area of the Old City, which had been buried over several decades beneath tons of accumulated debris. Today, Murad Khani is home to Turquoise Mountain and its arts training institute, as well as a primary school and community health clinic. With the exception of a handful of non-Afghan workers, Turquoise Mountain is run by and for Afghans.
In part, Saeeda's presence—along with other artisans who traveled to the Smithsonian throughout the year from Kabul—helped visitors experience a living, breathing part of Afghanistan. Visitors to the exhibition had the opportunity to interact directly with craft workers whose practices are key to reviving traditions that had been in danger of vanishing after decades of war.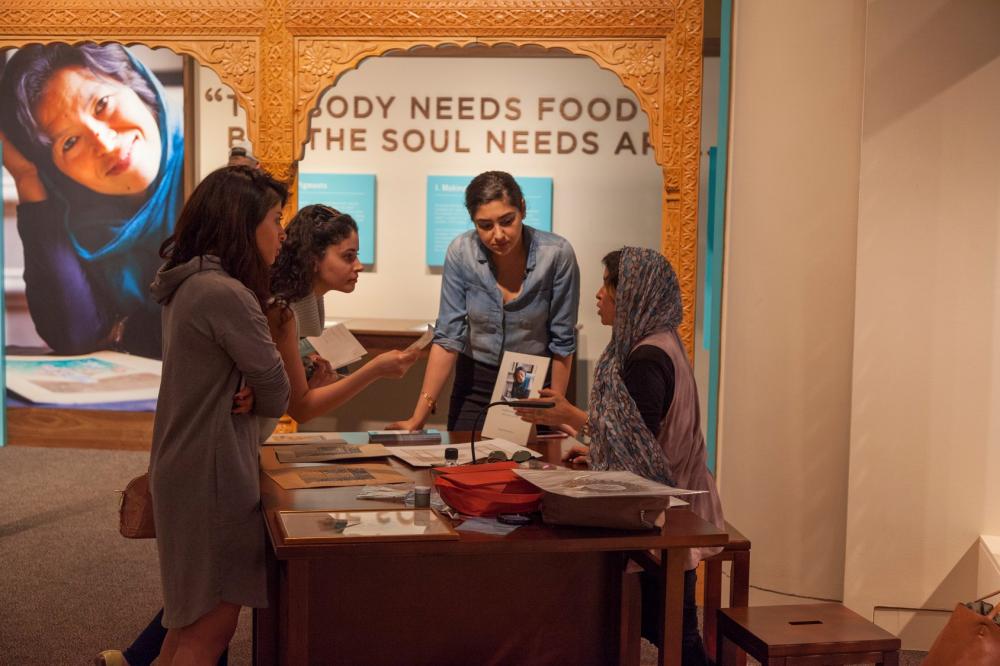 These artisans' work, among the most skillful in Afghanistan today, was displayed in a temporary, traditional Afghan caravanserai in the International Gallery: delicate, hand-carved jali latticework; meticulously detailed calligraphic miniatures; an array of pottery in various stages of completion; a hand-made loom upon which carpets are woven from local wool dyed with natural materials. The beauty of the tools and trappings of Afghanistan's traditional crafters belie the adversity its practitioners have faced simply to keep their tradition alive.
Building partnerships with others interested in marketing these crafts to the world ensures a future for the artisans and their works, and also feeds back into supporting the communities around them in Afghanistan.
"The chance for Afghan artisans to visit the U.S. and meet with designers and retailers is an exciting one," said Thomas Wide, lead curator of the Freer|Sackler exhibit and director of exhibitions for Turquoise Mountain. "Such meetings can lead to sales, and sales can lead to jobs.  We've already seen how the exhibition has encouraged international designers to visit Kabul and work with artisans there."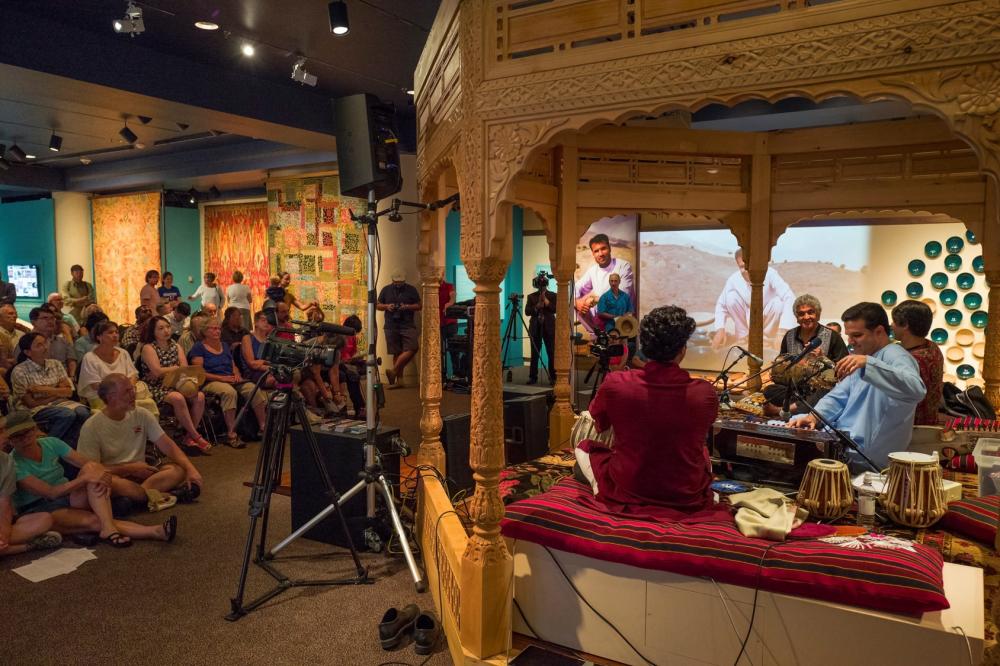 "It tells a story of Afghanistan regaining that important standing it historically had in artistic traditions," said Cheryl Sobas, head of exhibitions at the Freer|Sackler. "People are seeing that there is more to Afghanistan than what they read in the paper and that there is a history there, a very proud and important one."
Last year, Saeeda began working with British jewelry designer Pippa Small to create rings, bracelets, necklaces and earrings for Small's boutiques in London and Los Angeles. Together, the two worked with other local merchants to source the materials they'd need for the projects. Saeeda's visit to the United States resulted in a meeting with New York jewelry designer Sharon Khazzam, Wide said. There have been other partnerships between some of the artisan graduates of the institute and international designers, and one of the goals of the project was to provide a platform for even more inquiries.
"In practical terms, it was a huge hurdle to bring the artisans here," said Julian Raby, the Dame Jillian Sackler Director of the Arthur M. Sackler Gallery and the Freer Gallery of Art. "It didn't seem enough just to have text and videos [for the exhibition.] But if this is about having us almost shocked by our own prejudices, and realizing that there are people making things of their lives under very difficult circumstances, meeting the artisans became really important."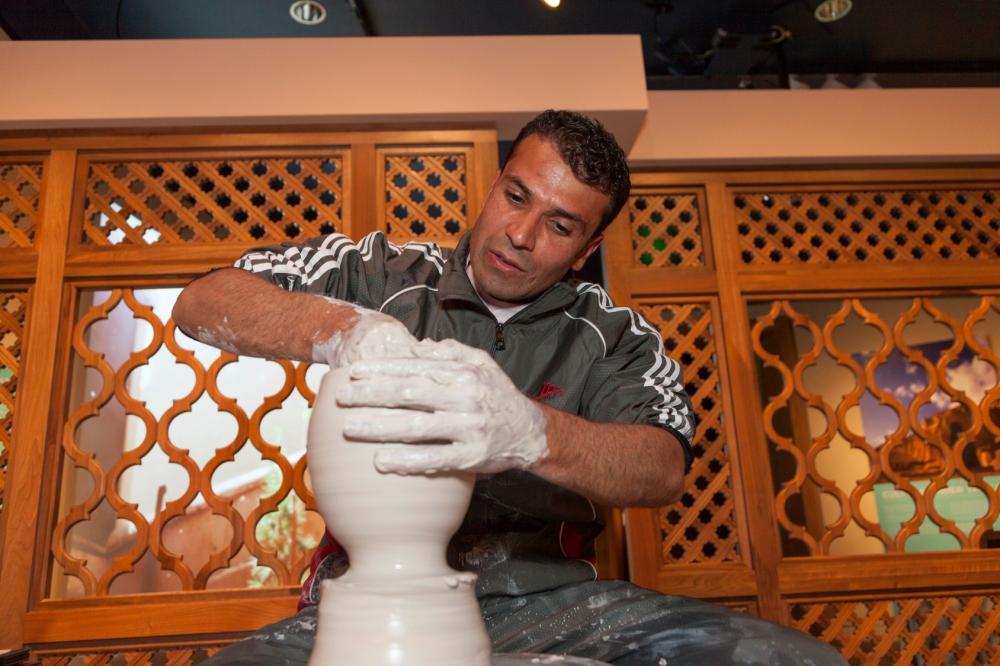 Bilal Askaryar, a Smithsonian fellow and graduate student in international development at American University, was central in arranging the artisans' visits not only to the Smithsonian, but also to other points of interest to make business connections. But without exception, every artisan, Askaryar said, also wanted to see examples of their art form whenever possible, since so much of what originated in Afghanistan was lost.
Askaryar arranged for Sughra Hussainy, a calligrapher who was the first artisan to arrive, to browse 16th century Persian miniatures in the Freer|Sackler's storage collections. He said she'd only ever seen black-and-white reproductions in books at home in Kabul.
"In a lot of ways, when they see them here in a museum, the average visitor has no idea of the history and culture behind these arts," Askaryar said. "Sughra really connected with it. She said, now that I've seen these works, I have so many more ideas for my own art."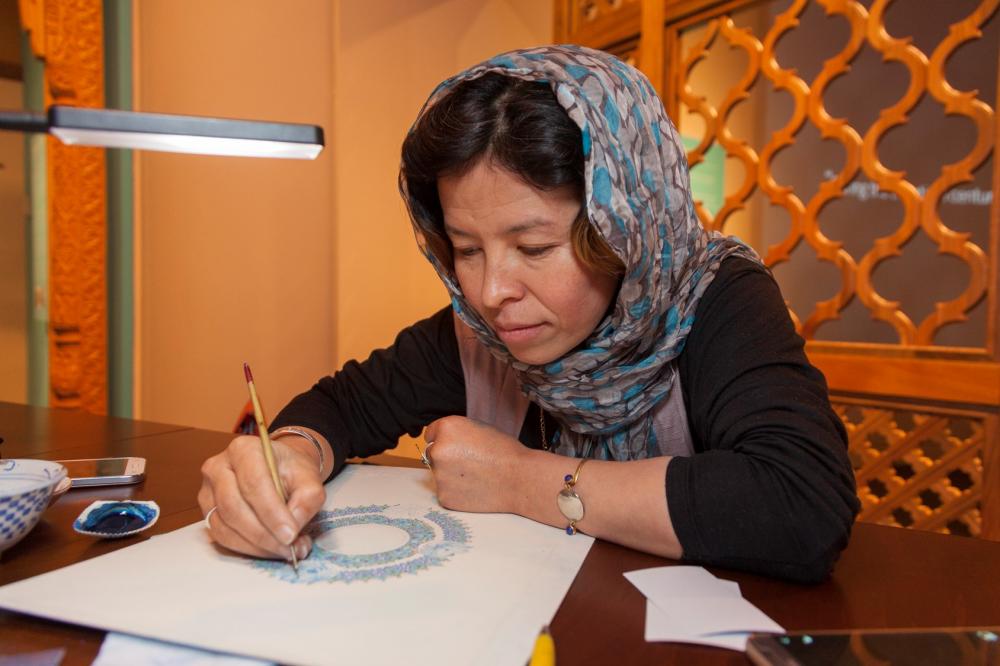 For her part, Saeeda was insistent on one other thing she was eager to bring back with her to Afghanistan: stories of her experiences here.
"My family told me something that made me laugh," Saeeda said. "They said, don't take off your head scarf and flip your hair like they do in America! But coming here I realized it's peaceful and not dangerous the way some people talk about it being here. I have so much to tell them about what I saw in America, and I'm so excited to tell them."