Part 1: Environmental Education for Students in Indonesia — Highlighting the Earth Optimism and Indonesia TV Education Series
May 20, 2021 | By Chloe Tenn
Also check out Part 2: EOTV Indonesia for Educators
Lights. Camera. Action. Yohanis Lamere, an Indonesian student involved with a Smithsonian (SI) youth leadership program, enthusiastically moderates a Q&A broadcast session with Dr. Amy Johnson of the Smithsonian Conservation Biology Institute. This is episode 5 of Earth Optimism TV (EOTV) Indonesia titled "Living with Elephants and Other Species!" Johnson is discussing how scientists and communities collaborate to prevent human-animal conflict using Smithsonian content. Millions of English-language students across Indonesia recorded their questions and are eagerly watching, actively learning even though they are no longer in a physical classroom. 
The COVID-19 pandemic created a new challenge for education systems around the globe. Without the opportunity for in-person lessons, many countries had to innovate to reach students during school closures. Spread out over 6000 islands, Indonesia is the world's fourth largest country with millions of young students, who in 2020, were no longer in a physical classroom. To address this issue, Indonesia's Ministry of Education identified a national educational TV broadcast as the best solution and collaborated with Smithsonian's Earth Optimism and Conservation Commons as well as the US Embassy in Jakarta to create a rapid response ten-episode series called EOTV Indonesia covering environmental science and conservation topics. Smithsonian's Office of International Relations (OIR) worked across these SI units and the 2020 Earth Optimism Summit team to share conservation success stories with students.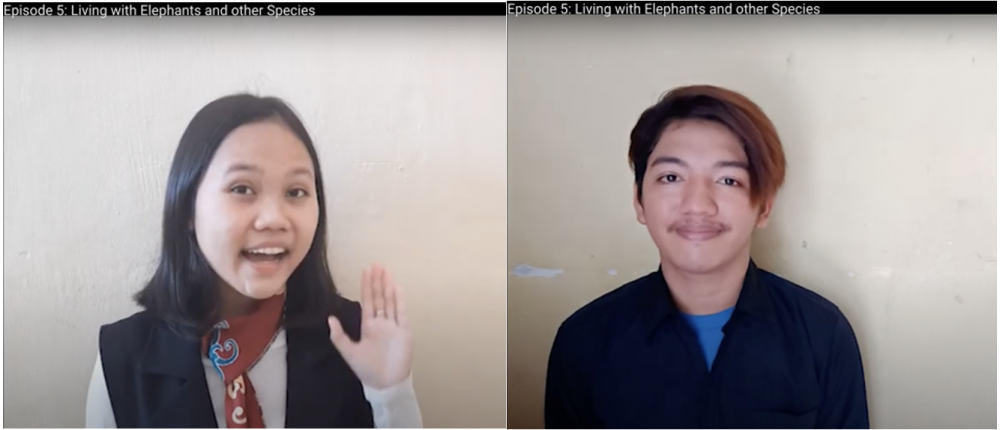 Digital education products for the EOTV series drew from the 3-day 2020 Earth Optimism Digital Summit content. The series is a pan-institutional initiative that was made possible by the initial summit efforts and resulted in a highly successful delivery of educational content in record time. "It was refreshing and really nice to talk about optimism and the future, a counternarrative that focuses on the productive and good things happening around the world." notes Sara De La Torre Berón, International Project Manager at OIR. 
From protecting coral reefs and tracking big cats to building a healthy planet and exploring conservation careers, the series gave Indonesian students the opportunity to connect with Smithsonian experts and receive content tailored to their interests and curiosity. Teachers delivering this material to students were supported through the series as well. The Smithsonian Science Education Center created detailed educational resource guides for each episode. While the series broadcasts ran through December 2020, the teacher engagement sessions on conservation topics continued until Earth Day 2021 (see Part 2 for more). While the pandemic displaced students from physical classrooms, the learning did not stop. The challenge of reaching millions of students in a country made up of islands was solved with collaboration and creativity. 
Susan Cleary, Senior Diplomatic Advisor at OIR, shared how excited she was at how responsive the Smithsonian was to react to international needs and take advantage of the opportunity to reach Indonesian students. "It's amazing to see what happens when countries do have optimism. Practical solutions oriented toward optimism is very contagious and powerful." 
For more information on this series, contact earthoptimism@si.edu.