Jul 18, 2015
Smithsonian science is laying the groundwork for mangrove conservation by documenting the critical services that mangroves provide and by examining how human activities are affecting the functioning of these ecosystems. Through collaboration with governments and other conservation organizations, Smithsonian research will help ensure that mangroves continue to support diverse forms of coastal life in years to come.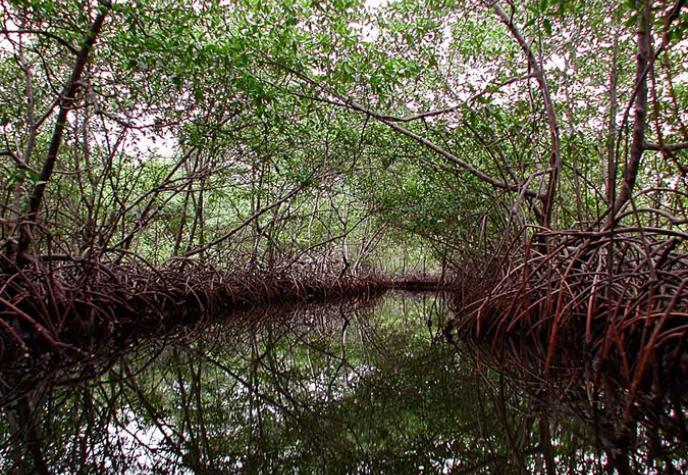 An insect and plant ecologist at the Smithsonian Environmental Research Center (SERC), Dr. Candy Feller has collected many insects once unknown to science. For more than 25 years, she has been carefully studying mangroves to understand how excess nutrients—like those from industrial, residential, and agricultural sources—affect mangrove ecosystems. 
Candy is a member of the International Union for Conservation of Nature (IUCN) Species Survival Commission (SSC) Mangrove Specialist Group, organized to share mangrove knowledge and develop conservation plans. This group will gather research and develop a global conservation strategy for mangroves based on conservation needs.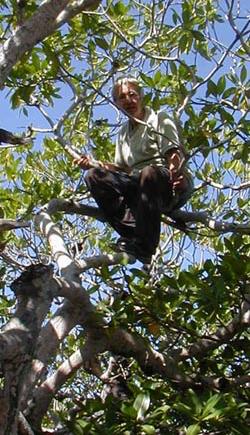 Candy studies mangrove ecosystems at numerous sites in the Caribbean, Australia, New Zealand, Belize, Panama, Florida and the Gulf of California, and is expanding her research into Bangladesh and Myanmar. She has been working with mangroves since the 1980s to monitor how adding nutrients affects these coastal ecosystems. By comparing how adding or limiting nutrients-nutrient cycling- in mangroves affects soil chemistry, plant growth, biodiversity, carbon dynamics, and other factors Candy and her team of researchers are able to provide powerful hypotheses about mangrove ecosystems worldwide, from Queensland, Australia, to Belize and Panama.
This research shows us how changes to these fragile ecosystems have ripple effects across marine food webs. Nutrient runoff from coastal development destroys fish habitats and coral reefs in a kind of snowball effect. The destruction of these habitats and ecosystems destroys important livelihoods and makes human populations more vulnerable to storms, rising seas, and other impacts of global climate change. 
By studying mangrove ecosystems at temperate and tropical sites along the same latitudes around the world, Candy and her team are able to describe the effects of climate change on mangroves and predict how future changes in global temperatures and our oceans may impact coastal ecosystems.
With funding from the National Science Foundation and NASA, Candy's work shows that increased nitrogen in coastal ecosystems can change the composition of plants living there, which can diminish the ability of the ecosystem to store carbon. This increase in nitrogen also weakens mangrove forests and makes them less resilient in the face of violent storms.
Although more than 50% of the world's mangroves have been destroyed, Candy's team has shown that mangroves are expanding in some areas. As the world's climate is warming, mangroves at the edge of their distribution are expanding pole ward and encroaching on saltmarsh ecosystems, converting these wetlands into mangrove forests. This is happening along coastlines around the world at the border between temperate and tropical climates.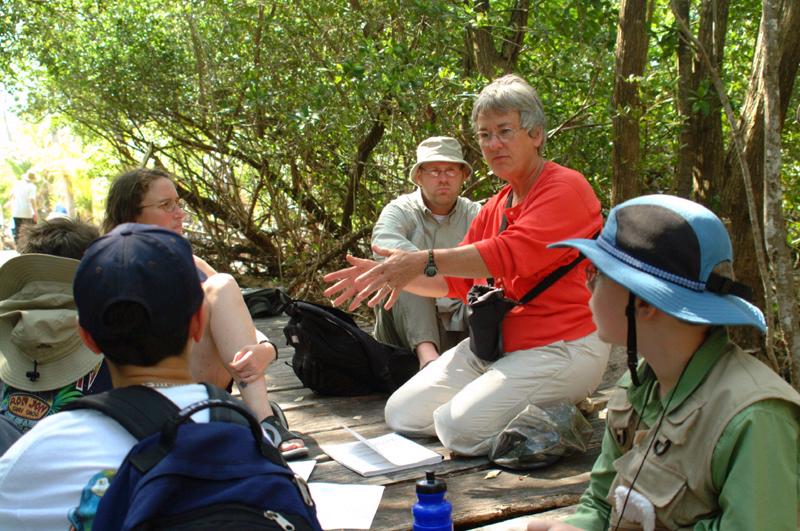 Candy's current work focuses on understanding how this transition is changing not only the structure but also the functioning of these coastal wetlands. By monitoring changes in these ecosystems for more than 25 years at sites around the globe, Candy and her team at SERC are increasing our understanding of mangroves and improving our ability to conserve them.