Mar 16, 2023
Before dawn on February 24, 2022, Russia launched a full-scale invasion of Ukraine. Along with the artillery and weapons assault, there was a deliberate disinformation campaign that claimed Ukrainian culture, history, and identity doesn't matter or even exist.
In the face of danger and uncertainty, stewards of at-risk Ukrainian heritage rallied and organized to save their heritage. As war had overwhelmed their infrastructure, they reached out to the world for help.
The Smithsonian Cultural Rescue Initiative (SCRI) answered the call. SCRI offers cultural relief services in the US and abroad to areas impacted by disaster—from upheavals ranging from hurricanes, earthquakes, and floods to armed conflict. Founded after the 2010 earthquake in Haiti, SCRI began by partnering with Haitian and international colleagues to help save Haiti's heritage from the rubble. Today, SCRI works with a global network of cultural stewards, emergency managers, the military, funders, governments, and non-governmental organizations (NGOs).
Katelynn Averyt, Disaster Response Coordinator at SCRI, manages the projects, relationships, and supplies to assist Ukraine as their people protect their museums, collections, historical sites, and houses of worship from the devastation of war. "Our partners in the field have always been critical lifelines when it comes to information and resource sharing during disasters," says Averyt. "Early on, SCRI relied heavily on the close relationships we'd built through our global training network and research activities to quickly convene funders, practitioners, and researchers to reach out to our Ukrainian colleagues."
As the first requests for assistance came in following the 2022 invasion, SCRI assembled teams of Smithsonian experts to consult with Ukrainian colleagues as they took emergency measures to protect their collections. Ukrainian heritage stewards persevered through Zoom sessions interrupted by power outages or sirens. They engaged with staff from the Smithsonian's Museum Conservation Institute, the Smithsonian American Art Museum, the National Museum of Asian Art, and the Smithsonian Libraries and Archives to discuss how best to protect collections facing wartime conditions. The Ukrainians and SI staff considered best methods for packing items for transportation to safe storage locations, protecting objects in situ and processes to prioritize and evacuate collections to off-site locations. They examined alternative materials available for safely handling and transporting objects and for ways to regulate and monitor temperature and humidity in storage areas.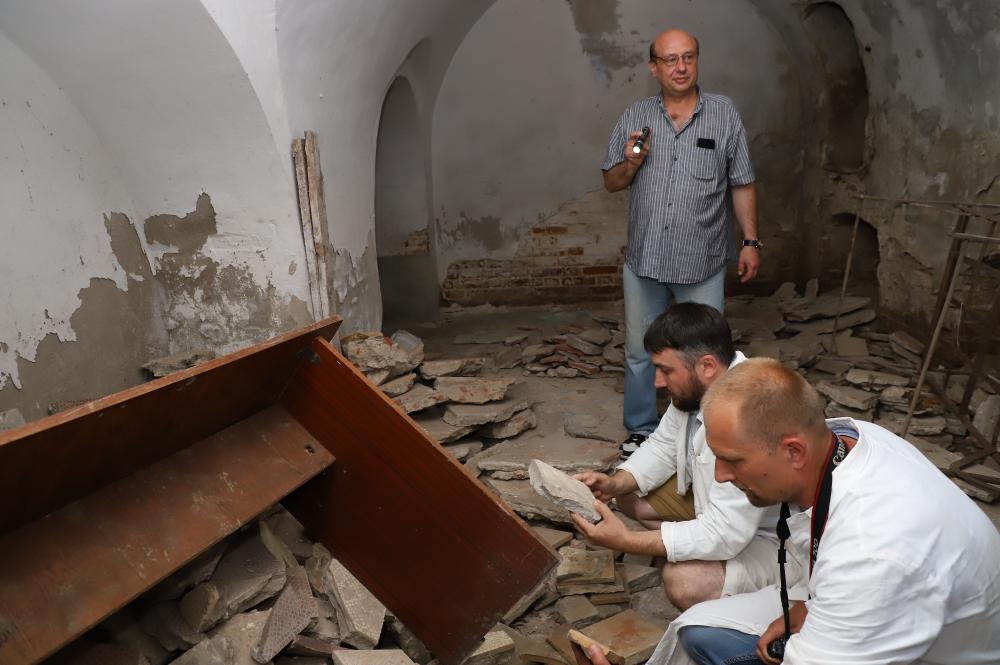 In discussing this exchange of professional knowledge, Averyt says, "conservators are experts at perfecting minor blemishes, optimizing storage conditions and generally taking the best possible care of their cultural charges. Under terrifying circumstances and with few resources and a great deal of variability, our Ukrainian colleagues had to make very difficult decisions about how to safeguard their collections. Smithsonian staff, for their part, engaged in weighing potential solutions with their Ukrainian colleagues, frequently thinking outside of the box and discussing alternative scenarios and materials."
At the same time, SCRI's research partners galvanized their own expertise, combining satellite monitoring and powerful quantitative analysis to monitor and document the destruction of cultural heritage. With a combination of remote sensing and open-source resources going back to 2021, the network had built a solid baseline knowledge; by the time of the 2022 invasion they had cultivated a database of 28,000 cultural heritage sites and analysis expertise from SCRI, the Cultural Heritage Monitoring Lab at the Virginia Museum of Natural History, and the Center for International Development & Conflict Management at the University of Maryland. To date, the team has identified thousands of potential impacts to cultural heritage sites and confirmed hundreds more. The team's reports and findings are regularly published through the U.S. Department of State-sponsored Conflict Observatory, a central hub that captures, analyzes, and makes widely available evidence of possible Russia-perpetrated war crimes in Ukraine.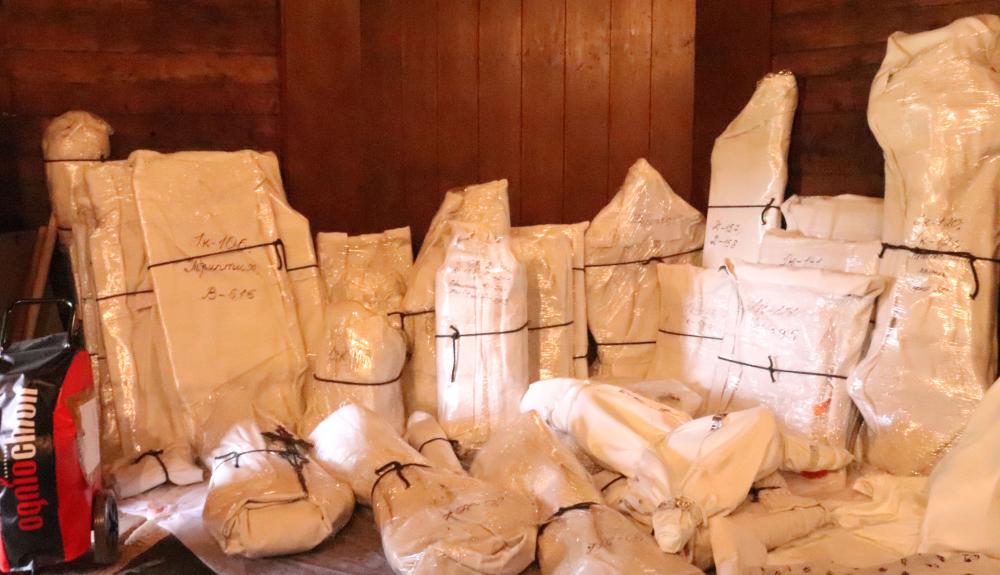 According to Averyt, this technology benefits heritage in both the near and long term. "The ability to remotely observe and document heritage sites at risk provides opportunities for faster response interventions—sending supplies such as tarpaulins to cover a damaged roof or polyethylene sheeting to protect exposed collections," she says. "Documentary evidence of damage can be used for future recovery planning or even possible war crimes prosecution."
As the fighting continues, there are new tests for heritage protection: says Averyt, "No two disasters are the same and what is true one day will not necessarily be true the next. At the onset of the conflict, SCRI and other NGOs did our best to provide what we thought were critical supplies and assistance. But as the hostilities persisted, Ukrainian colleagues faced new challenges daily and it was our job to listen and adapt. While the goal is always the same—to get them what they need—how to do that, can change at any time and requires being nimble and resourceful."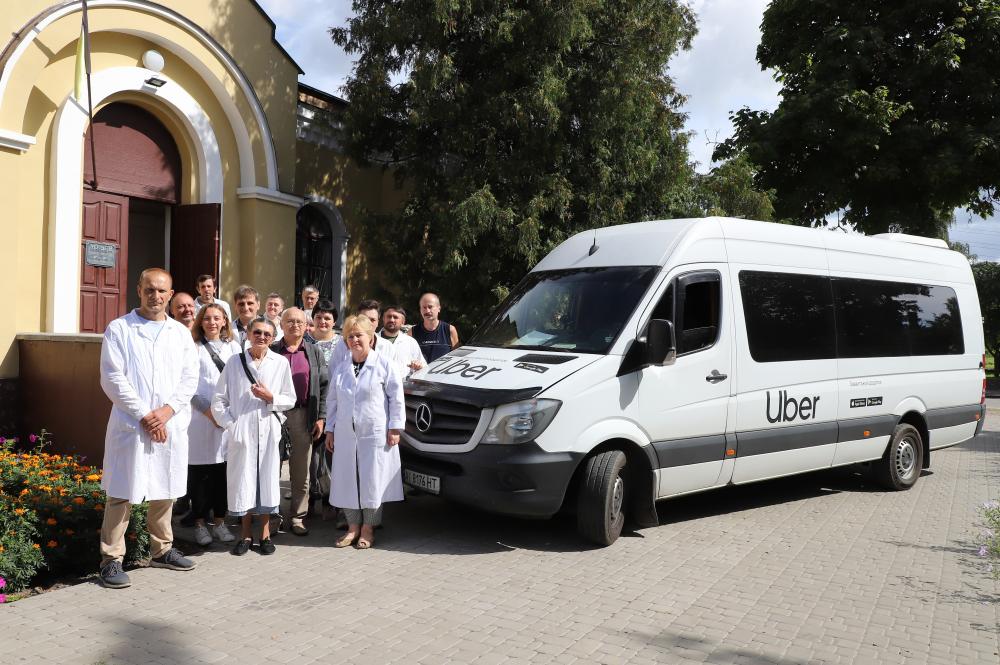 Resourceful describes the determined expert conservators at the National Research and Restoration Center (NRRC) who planned country-wide emergency visits and on-site stabilization for collections in dire need of care. NRRC had the will and expertise. All they lacked was reliable transportation.
The U.S. Department of State and the Smithsonian enlisted the team behind ride-hailing app Uber to help arrange the safe and timely transport of conservators to museums and alternate storage locations across Ukraine. Uber mobilized its fleet and has provided dozens of free rides for conservators to conduct site assessments and stabilization actions and sometimes assisted conservators with transporting damaged collection items to alternative sites for stabilization or restoration. SCRI continues to support the work of the National Research and Restoration Center in close coordination with the ALIPH Foundation.
SCRI maximized assistance for Ukrainian colleagues by convening collaborations, such as by connecting with the Kosciuszko Foundation, a Polish-American organization based in Warsaw, which had a deep commitment to helping in Ukraine. This partnership has already dispatched shipments of supplies and equipment, including generators, portable shelving, and battery-powered lights, to museums in Ukraine.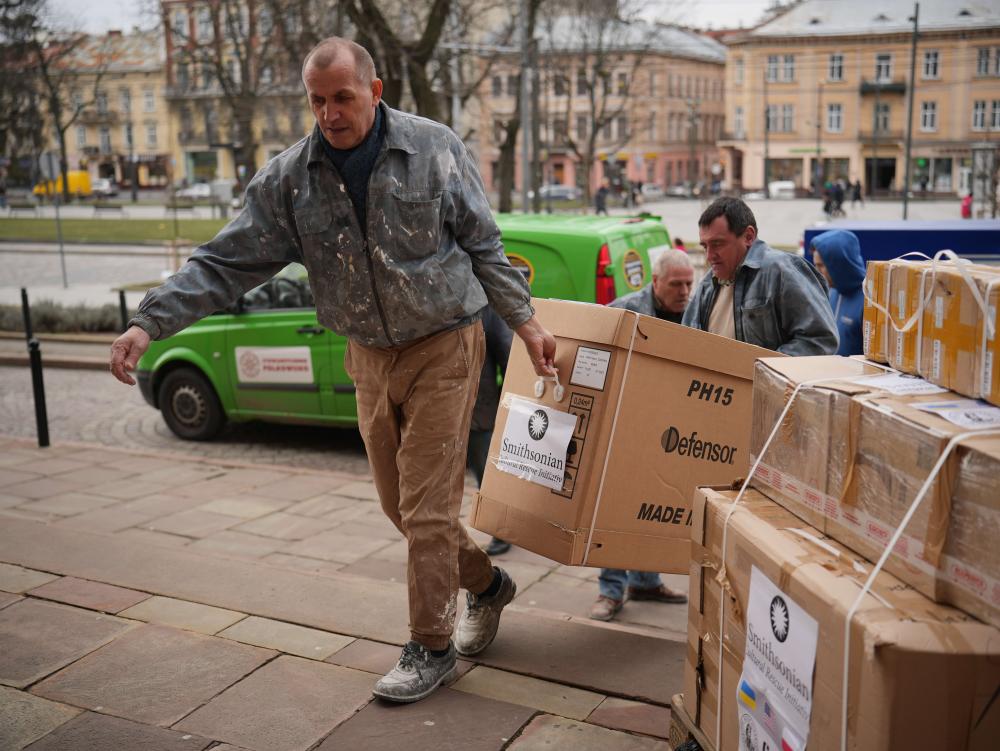 SCRI also linked up with the Netherlands-based Cultural Emergency Response (CER), to support the newly formed Ukrainian Heritage Emergency Response Initiative (HERI). Co-founded by Ihor Poshyvailo, General Director of the Maidan Museum and a former Smithsonian Fulbright Scholar, and Vasyl Rozhko, former Head of the Museum Department in the Ukrainian Ministry of Culture, HERI immediately set out to assist cultural institutions in need.
A year later, these two indomitable heritage professionals had built a national infrastructure to stabilize and protect heritage, conduct salvage and rescue missions, and document crimes against cultural heritage. In February 2023, Poshyvailo spoke to the power of networks at the HERI-organized forum War in Ukraine: The Battle for Culture. "For almost a year, foreign governments, international institutions, and organizations have been closely cooperating with Ukrainian state bodies, cultural institutions, experts, and volunteers," he said. "We've been given protective equipment, financial and humanitarian aid, and held many meetings. The scale of support is truly fascinating, and we are deeply thankful for it. . . . All of these efforts are for the sake of one goal, the preservation of cultural heritage during the war, the development of means of emergency response, supporting workers and cultural institutions, bringing the aggressor country to justice, and promoting the sustainable development of Ukrainian culture."
Bonds formed with Ukrainian colleagues in the times before the war prepared SCRI to be of use to the Ukrainian cultural community. "SCRI is proud to work alongside partners to support our Ukrainian colleagues at museums and cultural institutions as they fight to protect their heritage, history, and identity," Averyt reflects. "Their bravery and dedication are inspirational and with an eye to the future, they are planning for next steps after the war is won. To that end, Ihor set up an international forum to discuss Ukraine's cultural needs now and in the future. We were honored to participate and acknowledged that our long-standing relationship connected us at the onset of the conflict and strengthened our joint commitment to saving Ukrainian heritage."
Since the war began, the Smithsonian has stood with the people of Ukraine.
The Smithsonian is proud to support Ukrainian colleagues in their fight to protect the culture of Ukraine and preserve their national and cultural identity.
Learn more about the Smithsonian Cultural Rescue Initiative and their work with Ukraine: