Mar 16, 2023
In 2020, at a symposium organized by the Smithsonian Cultural Rescue Initiative (SCRI) in Washington, DC, Ihor Poshyvailo, the Director of the Maidan Museum in Kyiv, warned American and international colleagues that culture was becoming an object of war, and cited Russian cultural policy in the annexed Crimea since 2014. Ihor was a veteran of the Smithsonian's own cultural response and rescue legacy, having served as a Fulbright Scholar during the Institution's response to the devastating 2010 Haiti earthquake that eventually inspired SCRI's creation. He remained an integral member SCRI's extended global network, participating in their annual First Aid to Cultural Heritage in Times of Crisis training, first as a student and later as a mentor. And when Ukrainian culture was once again directly threatened by violent force, Ihor was ready to team back up with the Smithsonian to stop it.
Before dawn on February 24, 2022, Russia launched a full-scale invasion of Ukraine. Behind the artillery and weapons assault, there was a deliberate disinformation campaign: Ukrainian culture, history, and identity doesn't matter or even exist.
In the face of danger and uncertainty, Ukrainian heritage stewards rallied and organized to save their heritage. A war had overwhelmed their infrastructure. They reached out to the world for help.  
Amid the chaos of the first few weeks of the war, staff from the Smithsonian Cultural Rescue Initiative (SCRI) joined group call after group call with multiple governmental agencies and non-governmental relief organizations to learn as much as possible about any and all cultural rescue response. The SCRI team was focused not only on listening to these multilateral discussions, but also on putting themselves out there in the conversations, making their expertise and contacts available to whoever could leverage them for the Ukrainian communities managing the on-the-ground response. Slowly, individual requests came in, one email or phone call at a time, and a response network was methodically built, connecting the needs of those on the ground to the right subject matter experts, supply chains, and funding sources, with SCRI conducting a delicate coordination effort at the center. While SCRI began to coalesce the response on the US side, Ihor and his team quickly formed the Heritage Emergency Response Initiative (HERI) to coordinate assistance among the Ukrainian cultural and museum community. A year later, these indomitable heritage professionals have built a national infrastructure to stabilize and protect heritage, conduct salvage and rescue missions, and document crimes against cultural heritage.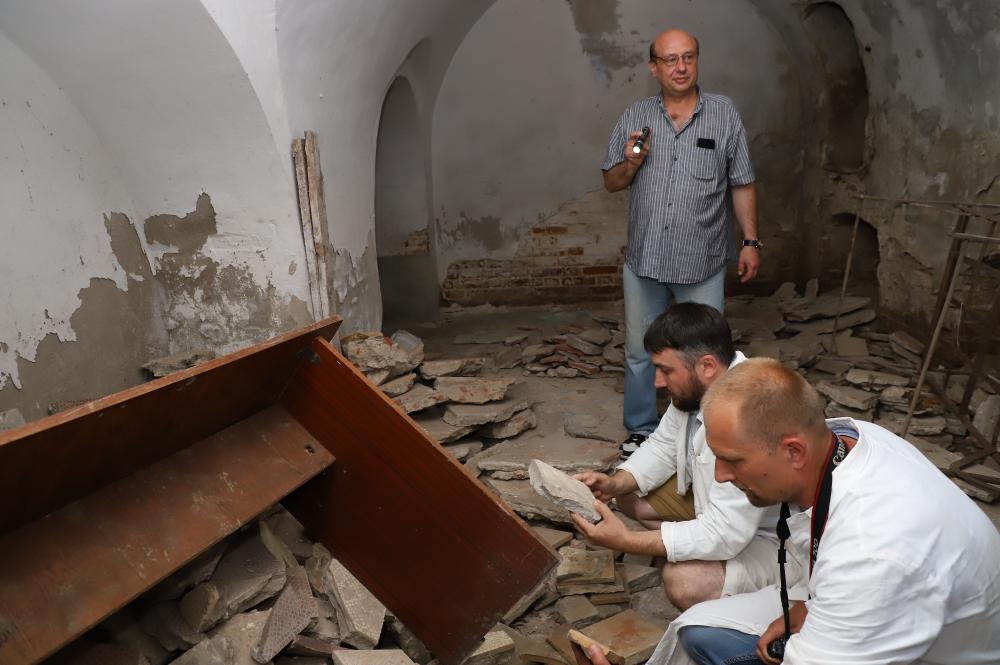 One critical thread of the SCRI-HERI response network tapped into the Smithsonian's broad array of museum expertise: SCRI assembled teams of experts from across the Smithsonian to consult with Ukrainian cultural heritage stewards as they took emergency measures to protect their collections. Over a series of Zoom calls, often conducted in bomb shelters or interrupted by power outages, the Ukrainians met with staff from Smithsonian's Museum Conservation Institute, the Smithsonian American Art Museum, the National Museum of Asian Art, and the Smithsonian Libraries and Archives to discuss best practices for packing items for transportation to safe storage locations, protecting objects in situ, and prioritizing and evacuating collections to off-site locations. Conservators and collections specialists examined alternative materials for safely handling and transporting objects when top of the line supplies weren't available, as well as multiple ways to regulate and monitor temperature and humidity in storage areas.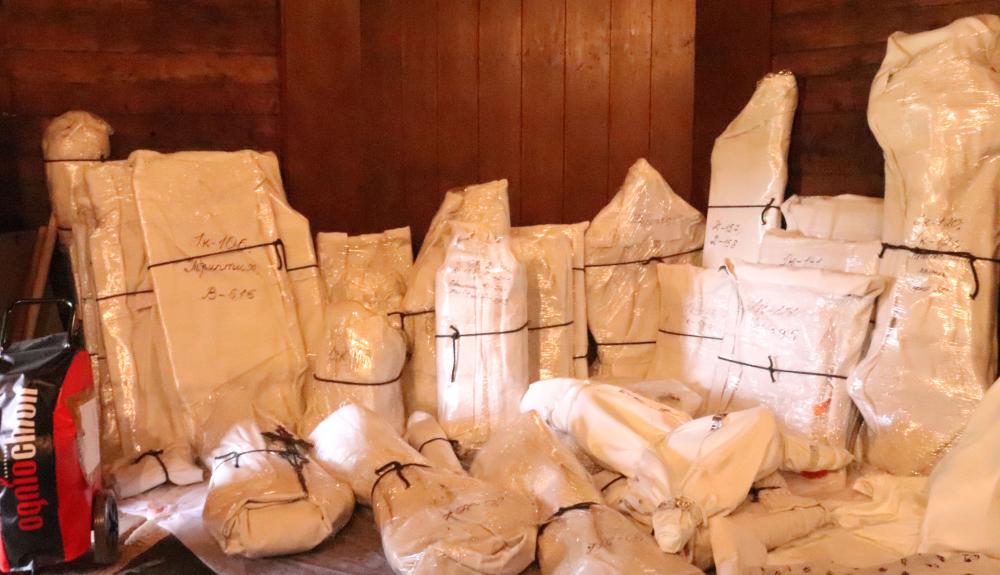 Another thread leveraged long-established critical partner networks, helping transform the generosity of global funding agencies and foundations into practical support. Owing to the enormous material needs of the cultural community, SCRI partnered with the Kosciusko Foundation (KF) in Warsaw, Poland, offering support and guidance to the KF as they gather lists of needed supplies and equipment, such as generators, moveable shelving, battery-powered lights, fire extinguishers and dehumidifiers, to purchase and send to colleagues across the border. And when determined conservators at Ukraine's National Research and Restoration Center shared that they lacked reliable transportation to help move artifacts out of harm's way, the Smithsonian and the US Department of State enlisted ride-hailing service Uber to help arrange the safe and timely transport of conservators to museums and alternate storage locations across Ukraine. Uber mobilized its fleet and has since provided dozens of free rides for conservators to conduct site assessments and stabilization actions and, in some cases, has even helped transport damaged collection objects to alternative sites for stabilization or restoration. SCRI continues to support the work of the National Research and Restoration Center in close coordination with the ALIPH Foundation.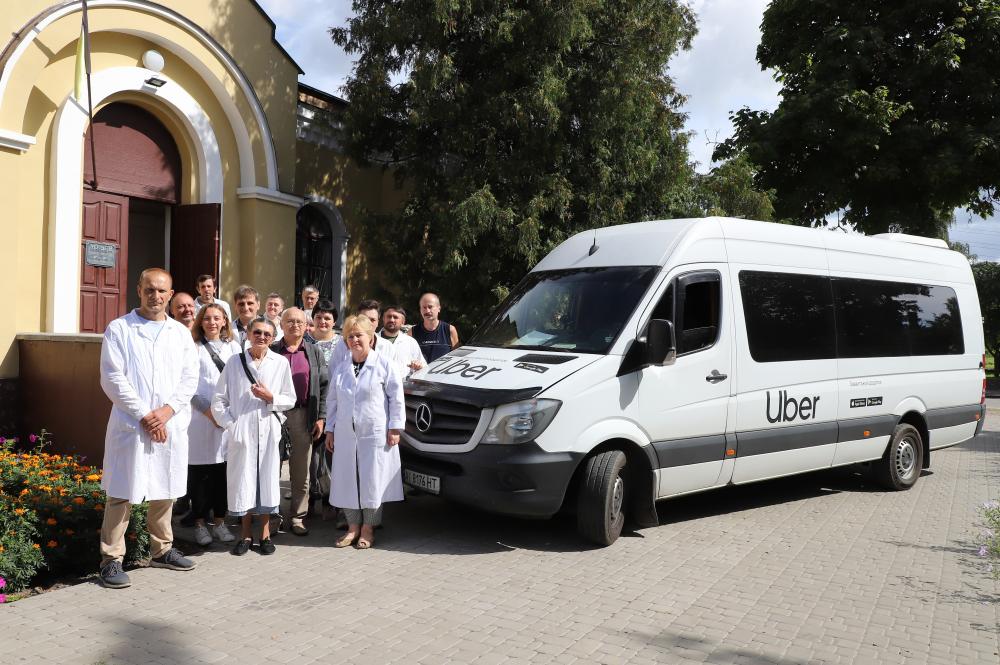 While this critical work was carried out on the ground, SCRI partners galvanized their expertise in combining satellite monitoring and qualitative analysis to learn as much as they could about the state of built cultural heritage in Ukraine from afar. With a combination of remote sensing and open-source research, a team of experts from SCRI, the Cultural Heritage Monitoring Lab at the Virginia Museum of Natural History, and the Center for International Development & Conflict Management at the University of Maryland gathered evidence of damage to Ukrainian cultural heritage. The network had been monitoring changes in Ukraine since April 2021; the day after the 2022 invasion, they had built a database of 28,000 cultural heritage sites. As of February 2023, the team has identified thousands of potential impacts to cultural heritage sites and confirmed hundreds more through analysis of high-resolution satellite imagery review of open-source news and social media, and site visits from a team of Ukrainian heritage experts trained in forensic documentation, coordinated with the help of HERI and the Ukrainian Ministry of Culture. Reports and findings are regularly published through the U.S. Department of State-sponsored Conflict Observatory, a public-facing hub to capture, analyze, and make widely available evidence of Russia-perpetrated war crimes and other atrocities in Ukraine.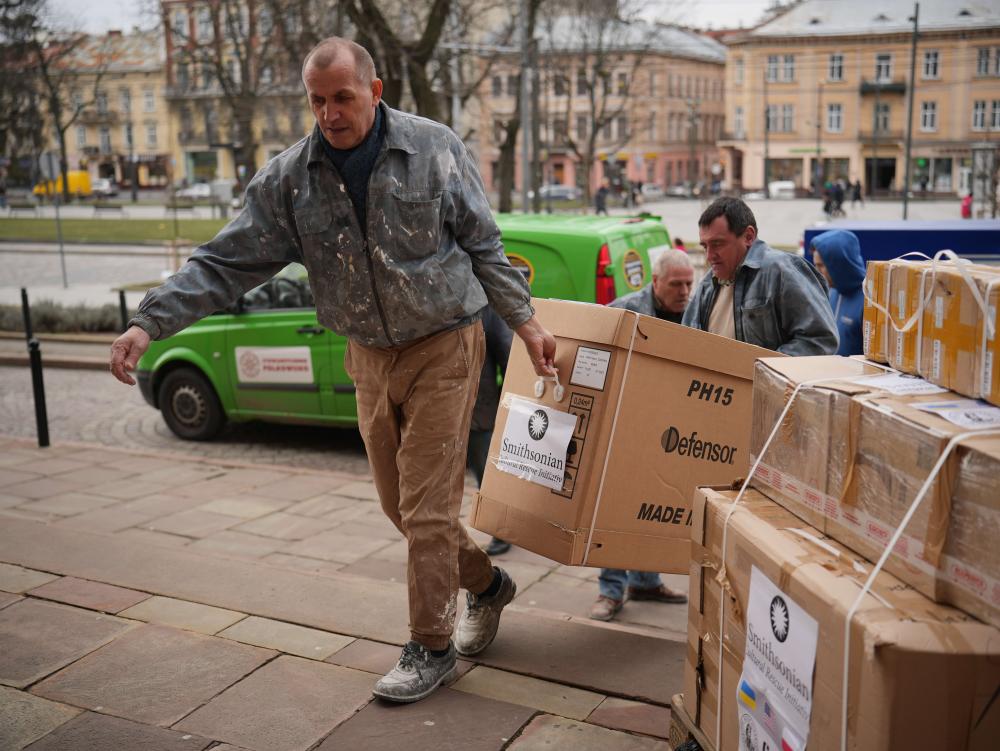 Thirteen years after he issued that critical first warning of the threat war now posed to Ukrainian culture, Ihor spoke once more on the topic, this time celebrating the power of networks. At the first International Forum War in Ukraine: The Battle for Culture, Ihor remarked, "For almost a year, foreign governments, international institutions, and organizations have been closely cooperating with Ukrainian state bodies, cultural institutions, experts, and volunteers. We've been given protective equipment, financial and humanitarian aid, and held many meetings. The scale of support is truly fascinating, and we are deeply thankful for it… All of these efforts are for the sake of one goal, the preservation of cultural heritage during the war, the development of means of emergency response, supporting workers and cultural institutions, bringing the aggressor country to justice, and promoting the sustainable development of Ukrainian culture."
Since the war began, the Smithsonian has stood with the people of Ukraine. The Smithsonian is proud to support Ukrainian colleagues in their fight to protect the culture of Ukraine and preserve their national and cultural identity.
Learn more about the Smithsonian Cultural Rescue Initiative and their work with Ukraine: