Aug 22, 2017 | By Corine Wegener
On April 11, 2015, the Islamic State of Iraq and Syria (ISIS) released a video of the ancient city of Nimrud erupting in a colossal cloud of dust. After attacking ancient sculptures and frescoes with sledgehammers and power tools, the terrorist group detonated the 3,000-year-old Assyrian ruins that stood outside ISIS-occupied Mosul. The demolition came amidst a wave of ISIS vandalism against ancient sites in northern Iraq.
"It's as if ISIS came and blew up a National Park Service monument," explains Jessica Johnson, Head of Conservation at the Smithsonian's Museum Conservation Institute (MCI). "There's a lot of symbolic value to these sites." Since 2015, the Smithsonian has been partnering with many different colleagues and institutions to train Iraqi heritage professionals at the Iraqi Institute for the Conservation of Antiquities and Heritage in Erbil, capital of Iraq's Kurdistan region. By providing the tools, knowledge, and networks needed to preserve Iraqi heritage, Smithsonian experts are helping Iraqis build a better future.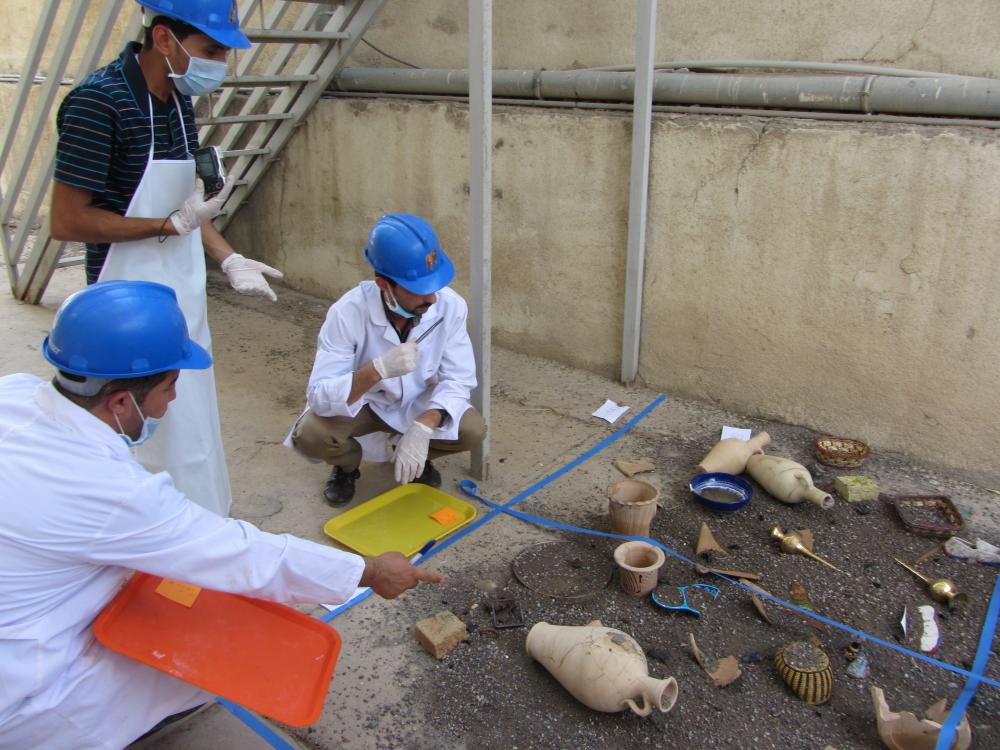 Often called the "Cradle of Civilization," Iraq was home to ancient Mesopotamian peoples who developed the world's first writing, agriculture and cities, between 10,000 and 3,000 BCE. Powerful civilizations from the Sumerians to the Neo-Assyrians ruled the region. The Biblical sites of Babylon, Nimrud, and Nineveh are located in modern Iraq.
Today, this history is under threat. Even before the ISIS campaign to destroy cultural heritage, historical sites suffered from neglect brought on by violence and instability over the past 30 years in the region that weakened conservation efforts. In one of the most notorious examples, looters took an estimated 15,000 objects from the Iraq National Museum in the early days of the U.S. invasion in 2003.
These besieged Iraqi sites and artifacts represent world heritage, but they also hold irreplaceable value for local communities. Katharyn Hanson, an archaeologist and Secretary's Scholar with MCI, recalls how in Erbil "there's a tradition of dressing up in traditional clothing and going on picnics on the weekends at historical sites. It's part of the fabric of what people do to continue the sense of who they are."
Cultural heritage is also a powerful economic driver, and these sites are vital to local economies. Heritage sites can beautify cities, spur infrastructure development, and attract visitors, creating jobs and raising incomes for communities. A blow to heritage can shake whole communities' livelihoods.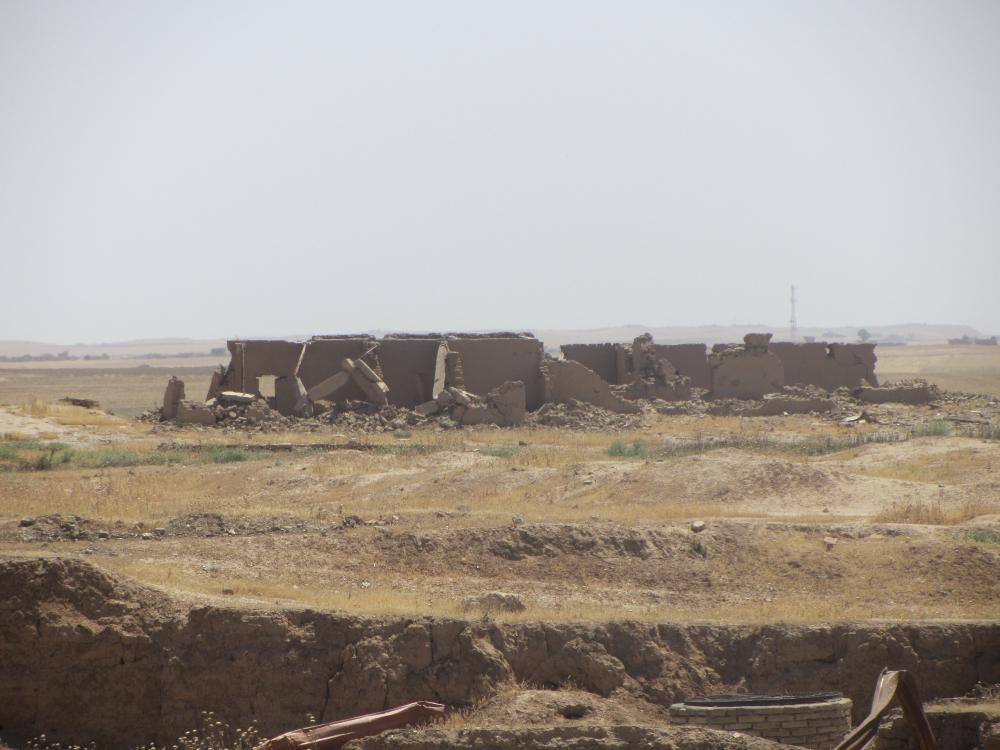 Smithsonian experts have long recognized the critical role heritage plays in all contexts, and worked to preserve global cultural heritage in times of crisis. In 2012, museum curator Corine Wegener—who had worked to recover looted artifacts from the Iraq Museum in 2003 as the Arts, Monuments, and Archives officer for the 352d Civil Affairs Command—became the Smithsonian's Cultural Heritage Preservation Officer, and head of the Smithsonian Cultural Rescue Initiative (SCRI). SCRI's mission is to build capacity to secure the world's heritage against future catastrophe, natural or human-made.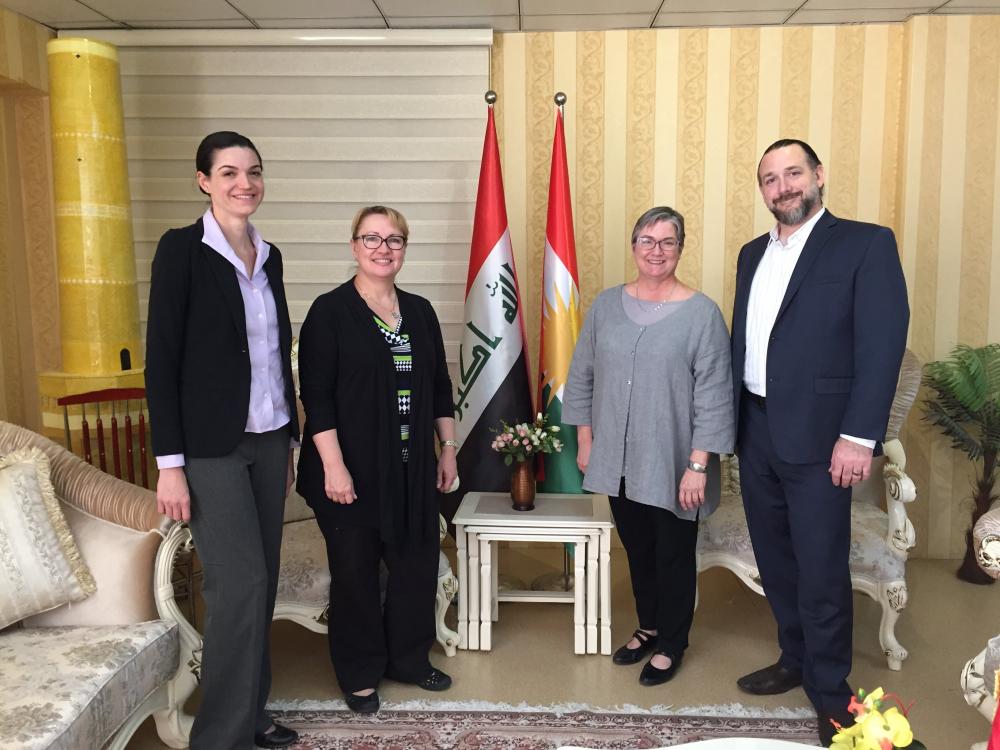 The Iraqi Institute has worked to preserve Iraq's beleaguered heritage since 2009. With support from the Erbil government, Jessie worked with Program Manager Brian Michael Lione and Institute Director Abdullah Khorsheed to found the Institute on the site of the old public library in central Erbil. Alongside a host of visiting colleagues, they taught programs there in the years that followed, with support from the U.S. Department of State, the University of Delaware, the Prince Klaus Fund, the J.M. Kaplan Fund, and the University of Pennsylvania.
Smithsonian's work with the Iraqi Institute builds on both organizations' expertise to help save Iraq's history. The collaboration began in 2015 with a course on Emergency Preparedness and Disaster Response, organized by the Smithsonian and the University of Pennsylvania as part of their collaborative Safeguarding the Heritage of Syria and Iraq project. Each year since, heritage professionals have come from all over Iraq to learn with Smithsonian experts. Jessie, Katharyn, Cori, Brian, and their colleagues ground participants in the basics of cultural heritage protection, offering them techniques to preserve the treasures of the past.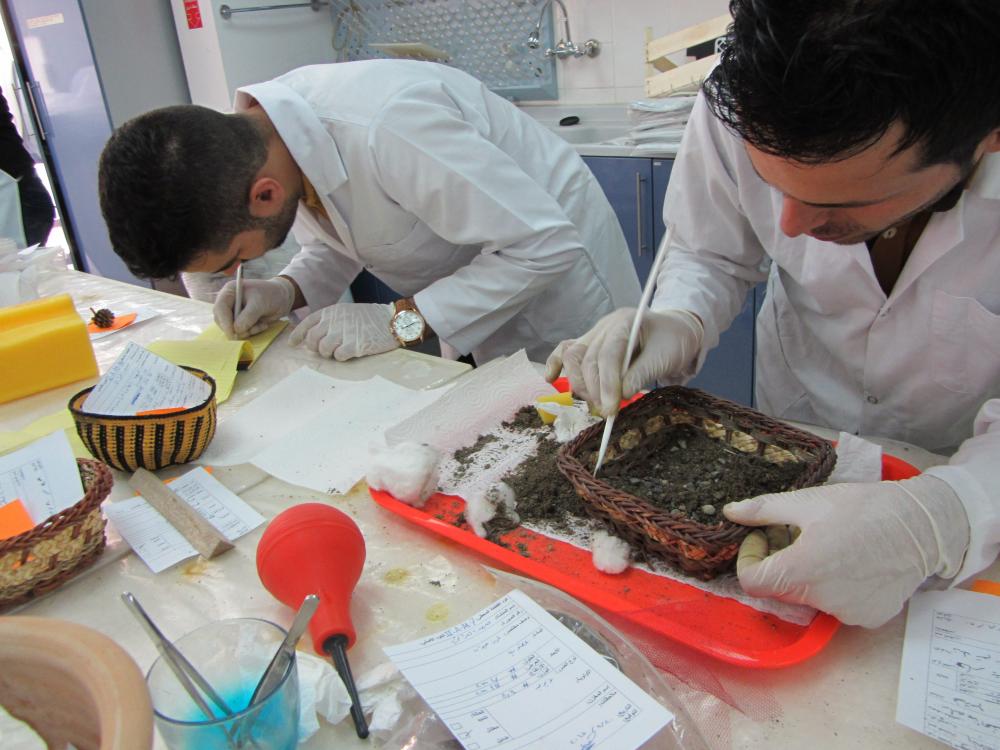 Preserving heritage is a complex job that requires a varied toolbox. Over the course of one six-month session, participants learn everything from international standards for conservation, to moisture and salt monitoring, to mapping and photography techniques. The courses prepare participants to identify, document, and stabilize vulnerable heritage—the essential skills to conserve sites for future generations.
The ultimate goal is to support a professional conservation network within Iraq. Iraqi conservators are the local experts on their own past, and by offering the latest tools, the Smithsonian programs enhance their ability to react to crises. "We're working to give Iraqis the building blocks they need to continue to build their own knowledge and rebuild their country," Jessie explains.
Smithsonian teams work to provide locally relevant solutions in their trainings. "We actually train with the Iraqis on site with the equipment they're going to be using when we leave," says Jessie. By collaborating directly with the people who will ensure the preservation of Iraq's heritage, and visiting local sites to understand the challenges facing conservation, this approach helps the instructors identify the tools their students need most.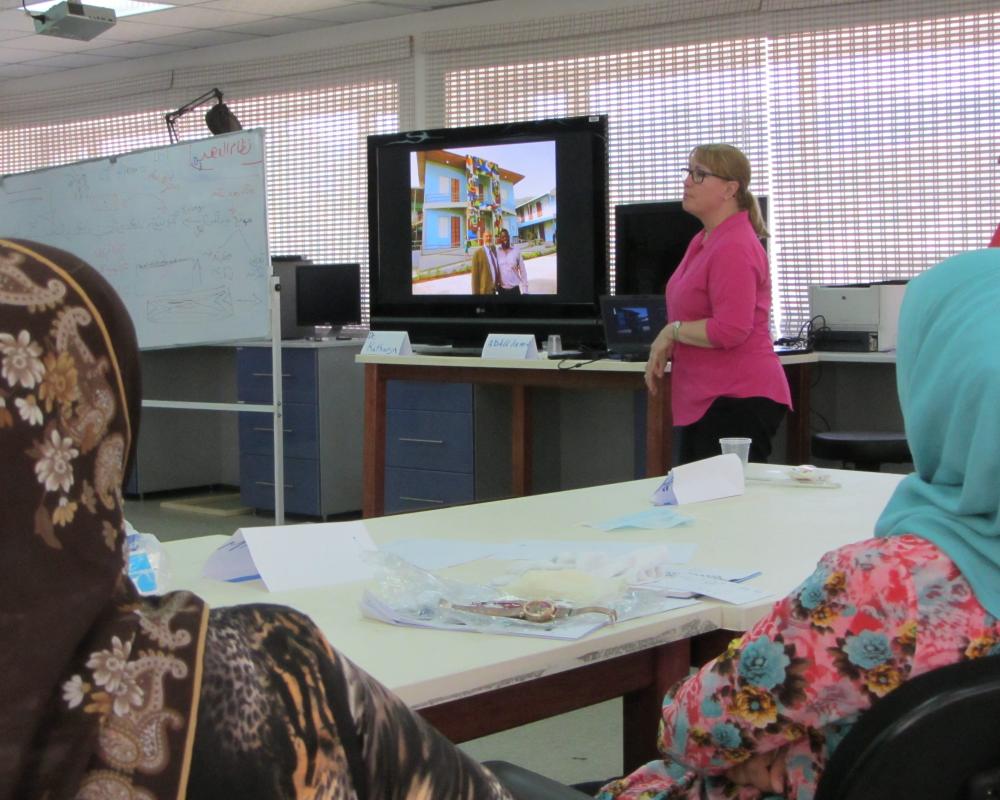 Some participants have used skills from Smithsonian programs to advance their careers. Nihayet, who works at a local museum in Erbil, became a "Master Trainer" (Teaching Assistant) with the Institute, supporting the instructors and sometimes running courses on her own. Now, she's using her experience to train conservators at her museum, and is helping set up a conservation department to serve the whole Erbil province.
The biggest sign of the program's success? Participants' dedication. Everyone who attends a program at the Institute sacrifices to be there—whether by traveling or spending time away from work and family. Almost everyone who comes to the Institute has a spouse and children, and must arrange to support their families while they are away. They take time away from their jobs, and many travel hundreds of miles from their homes to Erbil.
That's why participants make the most of every minute of their programs. When ISIS came within half an hour of Erbil in 2014, Katharyn tried to cancel her class so participants could call their families, but they insisted on staying. "It was like a little mutiny in the classroom—'you told us we'd learn about GPS units, we want to learn about GPS units,'" Katharyn recalls. "That sums up the whole level of dedication—with ISIS only 30 minutes away, they wanted me to teach."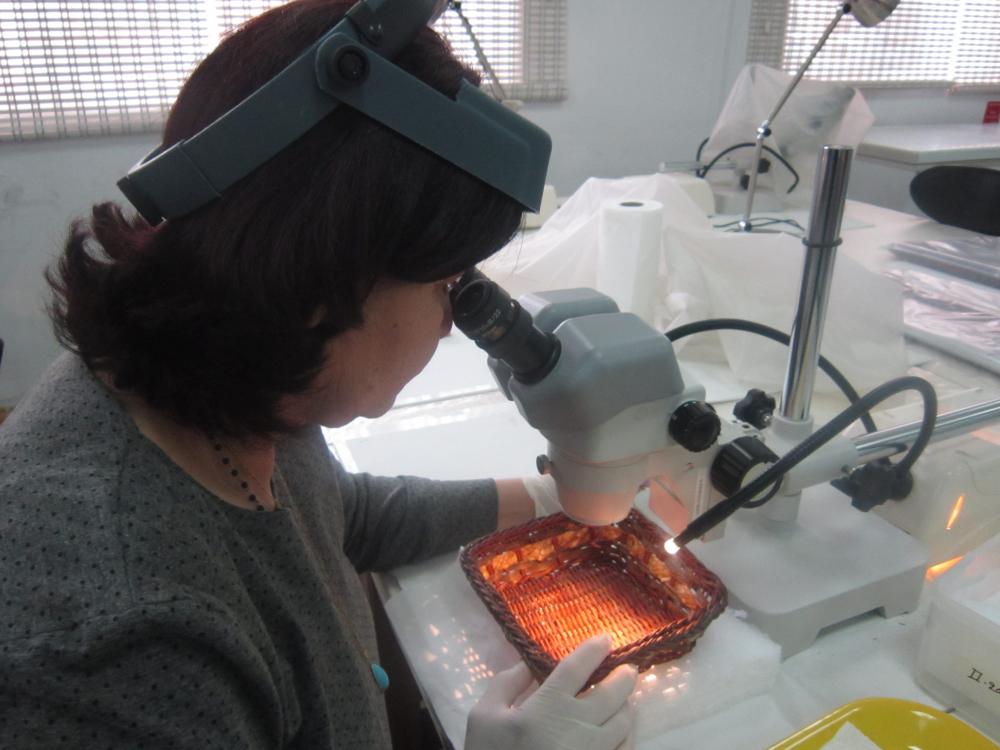 By joining together to protect heritage, Iraqi heritage professionals are taking a stand against violent extremism. "ISIS made these videos because there is a lot of power in that destruction," Jessie explains. "They're attacking identity. The sculptures at Nimrud represent a unified Iraq. They represent a place where people can come and, despite their differences, say, 'This is all of our heritage.'"
In late 2016 Iraqi forces pushed ISIS out of Nimrud and Mosul. While Iraqi demining teams began clearing activities at Nimrud, Smithsonian trainees were ready to move in and pick up the pieces. In April 2017 the Smithsonian began the Nimrud Rescue Project with funding from the State Department to document and stabilize the recently freed ancient city. By recovering and preserving heritage, Iraqis are not just stemming a tide of destruction—they are working towards a better future.
The Nimrud Rescue Project includes a training component for a team of Iraqis working at the ancient site of Nimrud. The following video talks about that training, and how the Iraqi Nimrud Rescue Team plans to use their new skills to support recovery and stabilization of the site