Jul 18, 2015
In 2011, Smithsonian paleontologists heard rumors of a large number of marine fossils while working in the Atacama Region of Chile. This site, Cerro Ballena, or "whale hill" in Spanish, contained the skeletons of more than 40 whales and other marine mammals.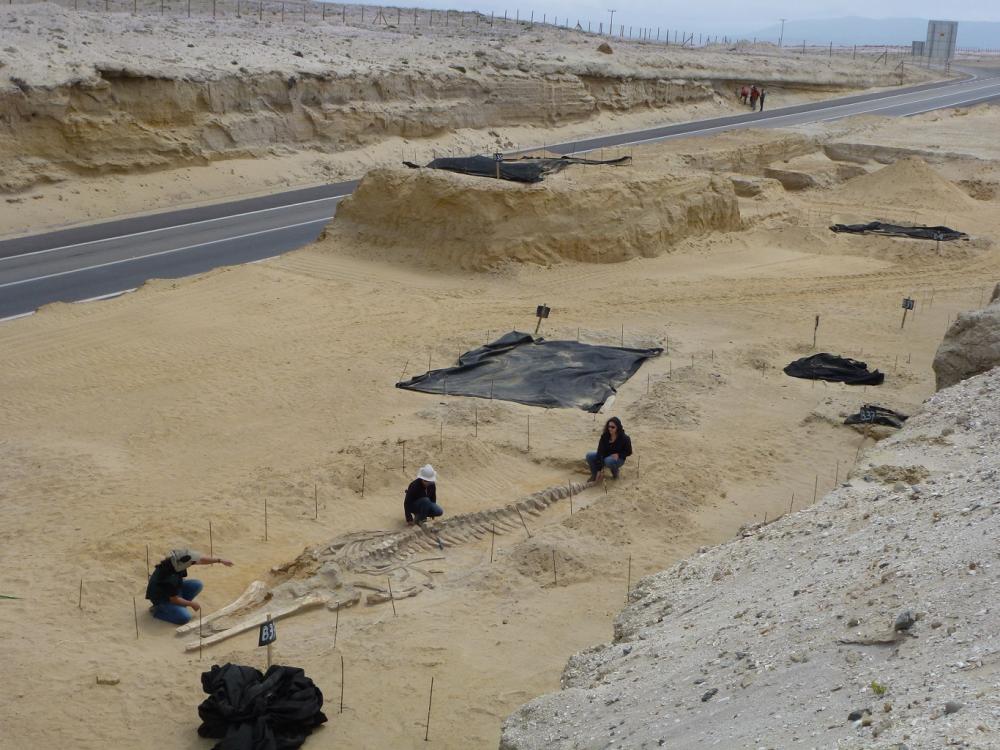 Working quickly because of impending road construction, researchers brought in Smithsonian's 3D digitization experts to record this marine graveyard. With 3D scanning technology, Smithsonian curators and technology specialists were able to preserve the Cerro Ballena site in its original context. Now, these images, models and scientific findings are available online to anyone in the world and the Smithsonian team can continue to study how changes in climate over the millennia may have affected marine biodiversity.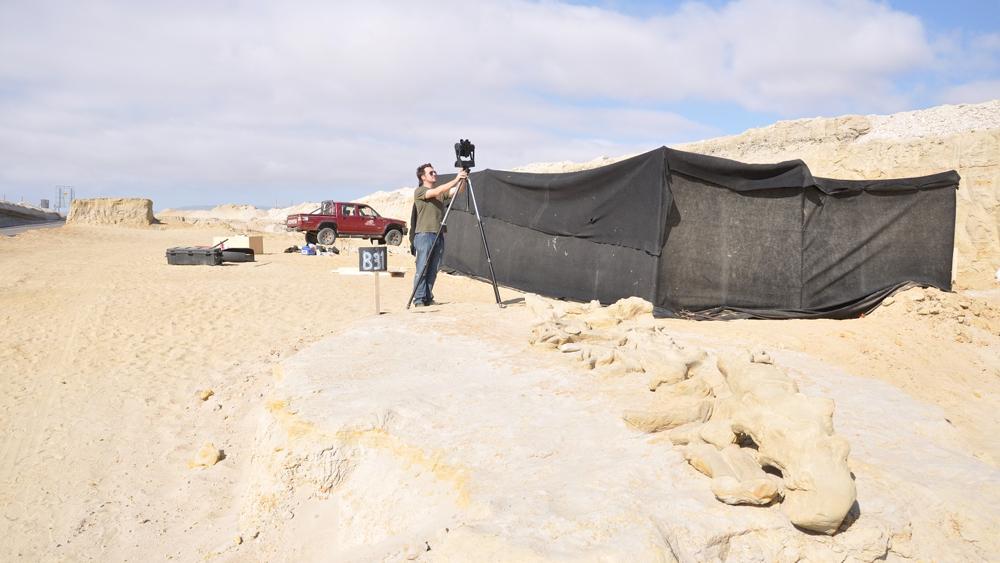 Cerro Ballena is one of the world's most unique paleontological sites. Located along the Pan-American Highway in the Atacama Region of Chile and similar in significance and scope to the La Brea Tar Pits, Cerro Ballena has the densest concentration of individual fossil whales and other extinct marine mammals ever found.  
In 2010, road construction along the Pan-American Highway unearthed a fossil site rich in whale skeletons and the remains of extinct marine life.  
Smithsonian paleontologist Nick Pyenson was working in the Atacama Region in 2011 when he heard about Cerro Ballena. He decided to visit the site after finishing a dig nearby and even after hearing rumors about the large number of marine fossils, he was blown away by the number of whale skeletons at Cerro Ballena, which included extinct and unusual marine mammals, including walrus-like whales and aquatic sloths. The site is an amazing window into ancient marine ecosystems along the coast of South America.
Nick wondered why more than 40 whales and other marine mammals died in what appeared to be a mass stranding. He also realized he was not only solving a mystery. He was also in a race against time. Plans were underway to pave over the entire site within months.
Already, local museum workers were jacketing the bones in plaster and placing them in local museums. This presented a big problem. Once the fossils were removed from their original location, vital information about the context of their demise would be lost. Details about the position of fossils in rock layers, and their orientation are an important part of the story.
Desperate to capture and preserve the context of Cerro Ballena, he enlisted the expertise of Smithsonian's Digitization Project Office. 3D "laser cowboys" Vince Rossi and Adam Metallo flew to Chile with laser scanners and worked around the clock to document fossils and the context in which they were originally discovered. The 3-D digitization team saved valuable information that would otherwise be lost during excavation and relocation of fossils from Cerro Ballena.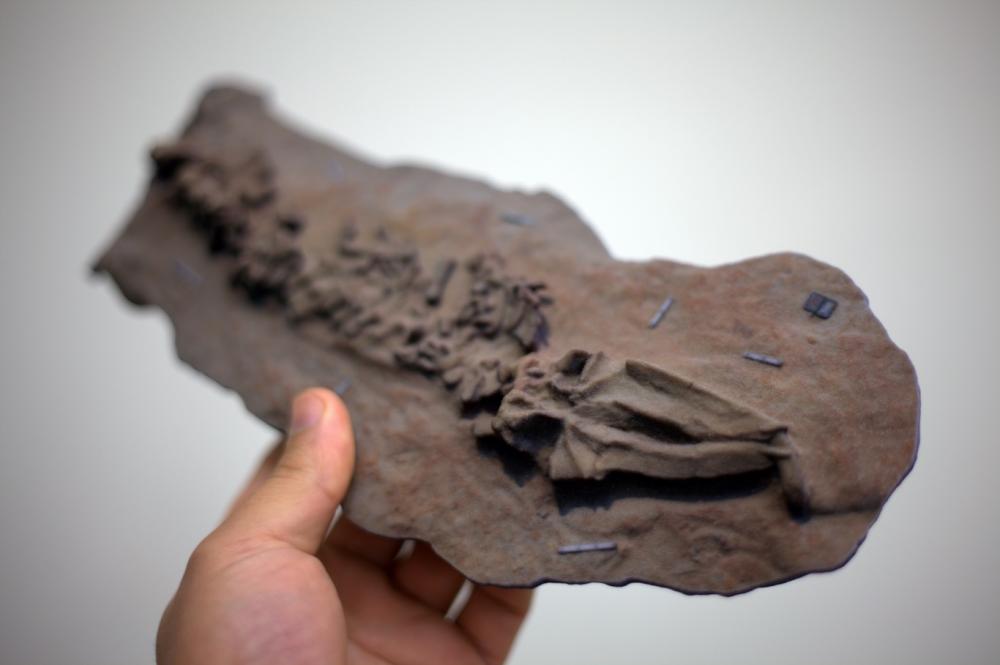 The fossil context 3D scanning preserved helped Nick and his team deduce that the group wasn't killed at the site itself; Cerro Ballena is a graveyard, not a murder site. Cerro Ballena is also the first definitive example of repeated mass strandings of marine mammals in the fossil record. After ruling out a variety of other explanations, such as tsunamis or viruses, Smithsonian researchers concluded that the mass stranding was the result of a harmful algal bloom.  
Sudden blooms of many types of algae can produce high concentrations of toxins that quickly kill large herbivorous marine mammals when they inhale or eat them. Carnivorous marine mammals also die after eating prey laced with these toxins, which cause organ failure and sudden death by asphxyiation.  
There are numerous modern examples of algal blooms killing marine creatures, including red tides off the coast of Florida, or a 1987 incident when dozens of humpback whales washed ashore on Cape Cod. While anthropogenic—man-made—causes of algal blooms didn't exist millions of years ago, today these events are precipitated by pesticide runoff into streams and rivers and then out to sea, as well as natural discharge of minerals like iron into water.
The importance of the Cerro Ballena site attests to the value of fossils for scientific research. As Nick says, "fossils are the data records of ancient life." Smithsonian's National Museum of Natural History houses 42 million specimens from every continent in the world, spanning every geologic time period from the last Ice Age (~18,000 years ago) to the first squiggles of microbial life (~3.5 billion years ago).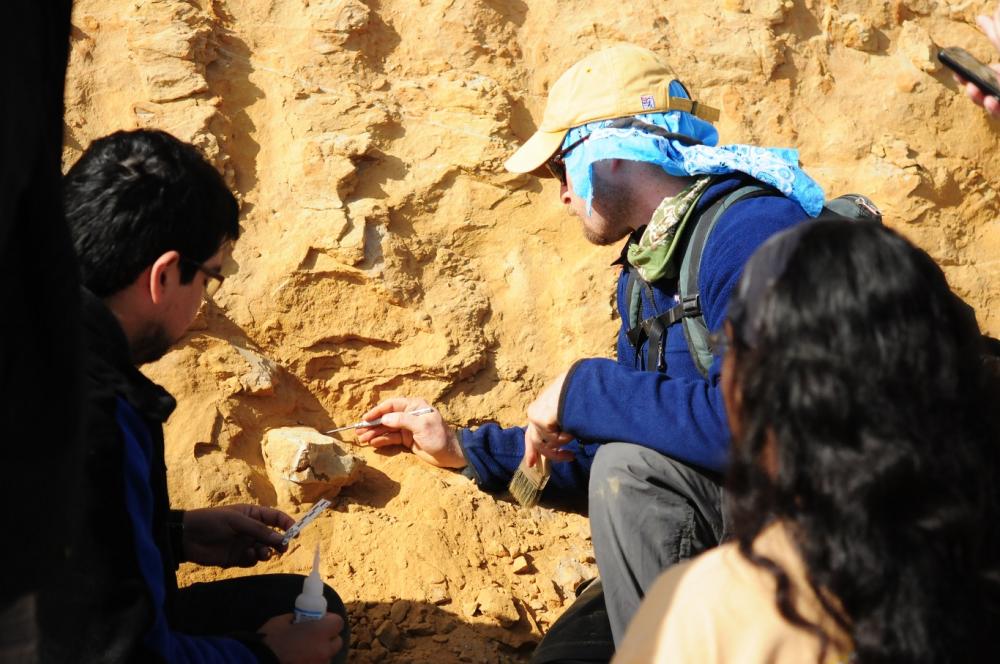 "Our mission is to study, preserve and continue building these unique collections, the culmination of millions of hours of labor spent collecting and retrieving these traces of the distant past," Nick says. "Each specimen undertook a special journey from its discovery in a rock outcrop to a museum drawer.  Often these journeys take decades, can involve preparation in a laboratory, or re-analysis with new eyes." One never knows what secret may be revealed by a careful look in a museum cabinet…or through a virtual 3-D viewer.  
Nick works against the illegal traffic in fossils by sharing his work with the public and demonstrating how paleontology, by looking to and understanding the past, can tell us about our present and our future.