Jul 26, 2016
Smithsonian educational programs take place far beyond the National Mall, including online and with partner institutions around the world. The Smithsonian National Air and Space Museum worked with Al Nayzak, a Ramallah-based educational non-profit organization, to facilitate their Science and Technology Entrepreneurship Program (STEP), which promotes science and technology education as a means to build more independent, prosperous local communities. Through this initiative, National Air and Space Museum curators and educators provided students from the Palestinian Territories, ages 14-17, a one-week experience with science, technology, engineering, and math (STEM) activities at the Museum and the greater Washington DC area.
Since 2013, dozens of Palestinian high school students have competed in STEP science fairs for the chance to learn more about current scientific work from researchers in the United States as well as educational approaches to sharing such knowledge with museum audiences. Participants visit university and government labs and learn about the National Air and Space Museum's STEM educational programming.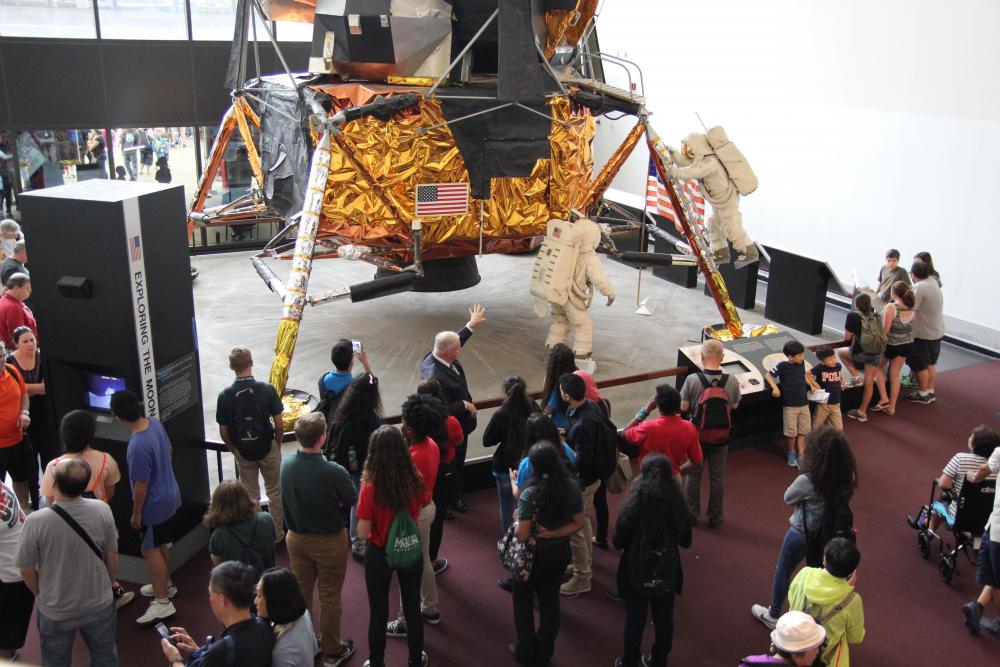 As part of their science fair projects, STEP applicants design effective solutions to challenges they see in their everyday lives, improving concepts like safety in the home or on the road, use of water, or landscape development. Once in Washington, DC, they display their projects for Museum visitors, engaging them in conversation on their projects and their application in their local communities in the Palestinian Territories.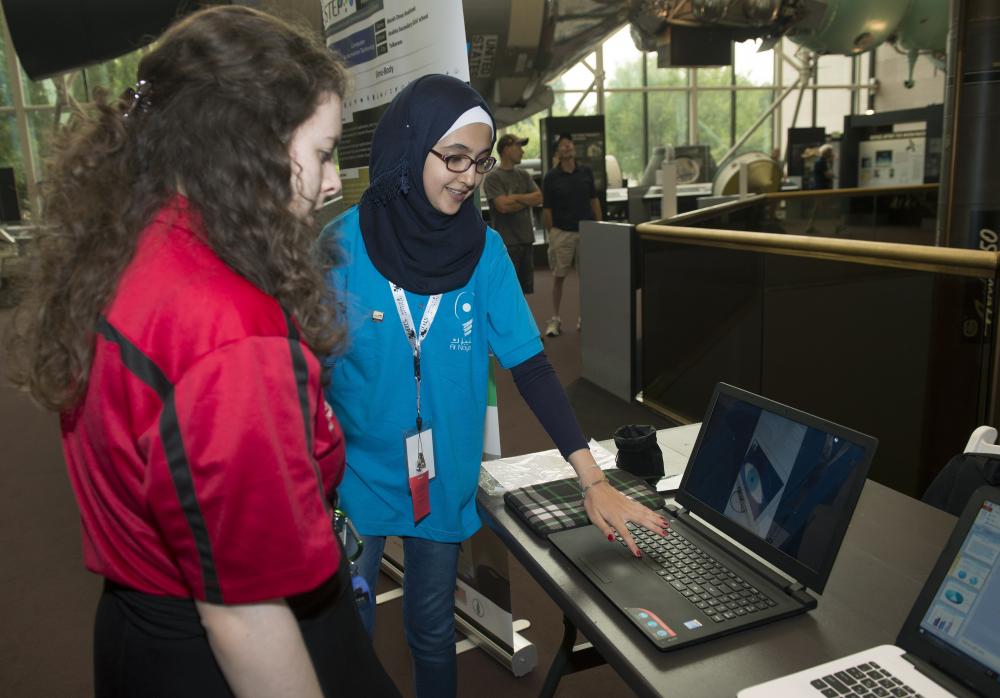 Smithsonian National Air and Space Museum curator Martin Collins worked with Al-Nayzak founder Aref Husseini to build this collaboration between the Smithsonian and Al-Nayzak's STEP program.
While visiting the West Bank in 2012 for a series of lectures at local universities, Martin learned of the need for a collaborative outreach program and thought the Smithsonian could help. "I was particularly struck by the need for expertise that a US museum might provide, given that educators in the Palestinian Territories were seeking to reach audiences interested in history and in STEM-type programming," he explained. After a year of planning and discussions with the U.S. consulate in Jerusalem, Al Nayzak began bringing students to Washington in 2013.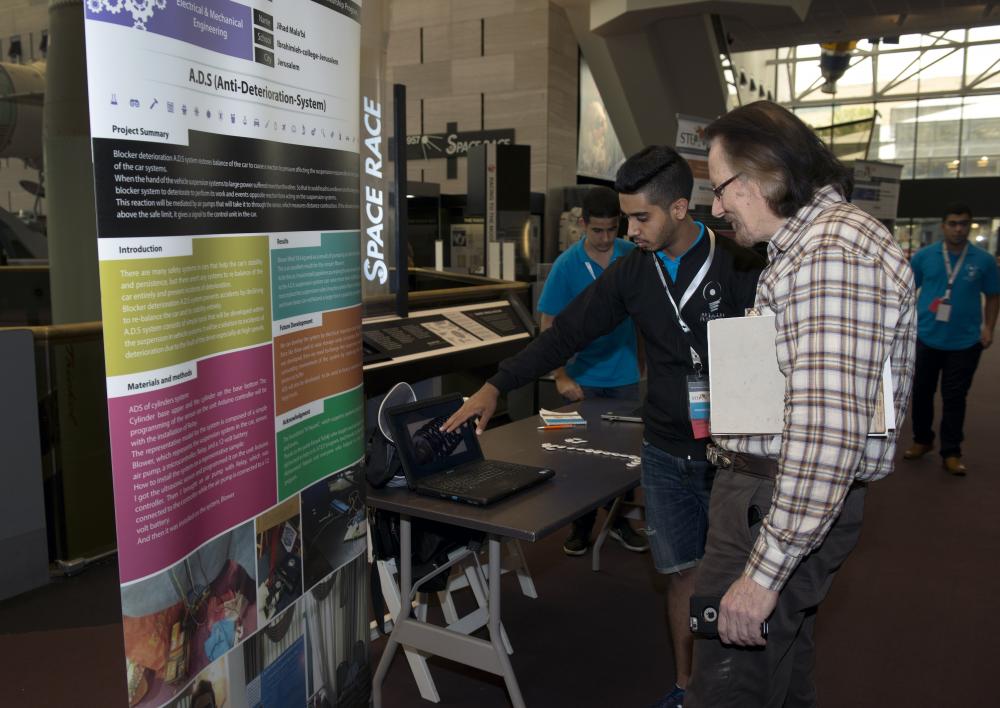 In the National Air and Space Museum's one-week program, students experienced different locations and hands-on activities: from canoeing through the marshes of the Smithsonian Environmental Research Center to exploring the underwater neutral buoyancy tank at the University of Maryland College of Engineering. They also visited the Smithsonian National Air and Space Museum's Steven F. Udvar-Hazy Center and NASA's Goddard Space Flight Center in Maryland to learn about American space history and aerospace engineering opportunities. Though the students had varied scientific interests ranging from engineering to medicine, the trips inspired them to pursue their educational dreams.
STEP students are not the only ones who benefited from this once-in-a-lifetime experience. Tim Rhue, former Manager of the Explainers Program at the National Air and Space Museum's National Mall Building, sees STEP as a valuable opportunity for peer-to-peer learning and exchange. Tim developed programming for visitors in addition to managing a group of 50 to 60 high school and college Explainers at the Museum. These students, along with approximately 50 additional Explainers at the Museum's Steven F. Udvar-Hazy Center, learn science content, informal education delivery methods, and professionalism while engaging hundreds of thousands of visitors a year.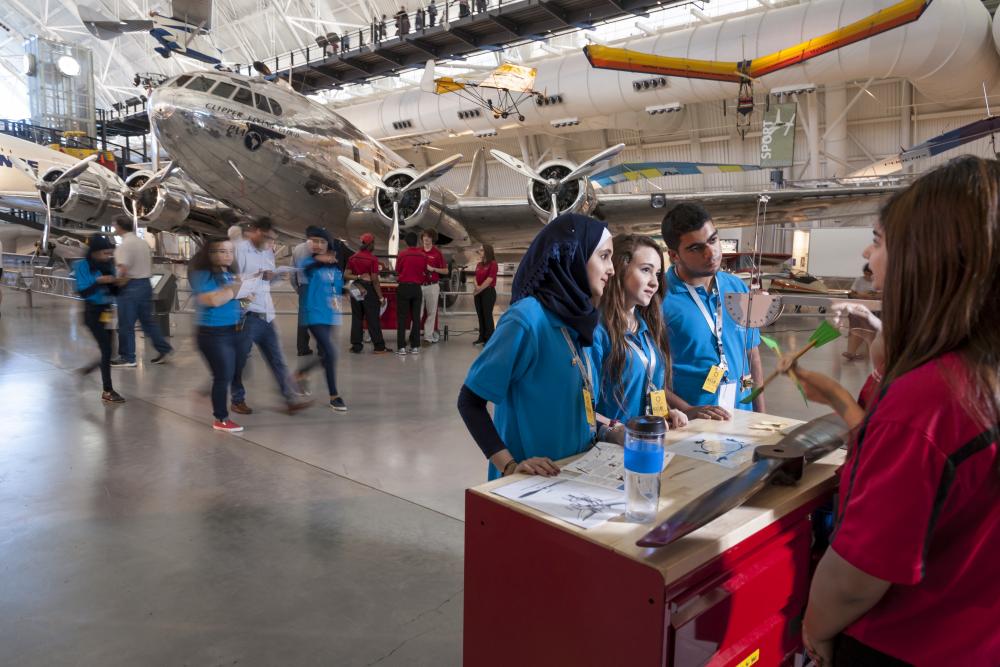 Explainers joined the STEP students for much of their week in Washington, which became a time of new international friendships. "One year, the STEP students started teaching the Explainers pick-up lines in Arabic and other phrases and things, talking about music and whatever else," he said. Many of the Explainers and Al-Nayzak students stay in touch for years despite their geographic distance.
By the end of the week, the STEP students were exposed to a wide array of scientific disciplines and to the numerous opportunities available to them in STEM. Whether interested in becoming a doctor or engineer, they have a new perspective on what may be possible in their own lives.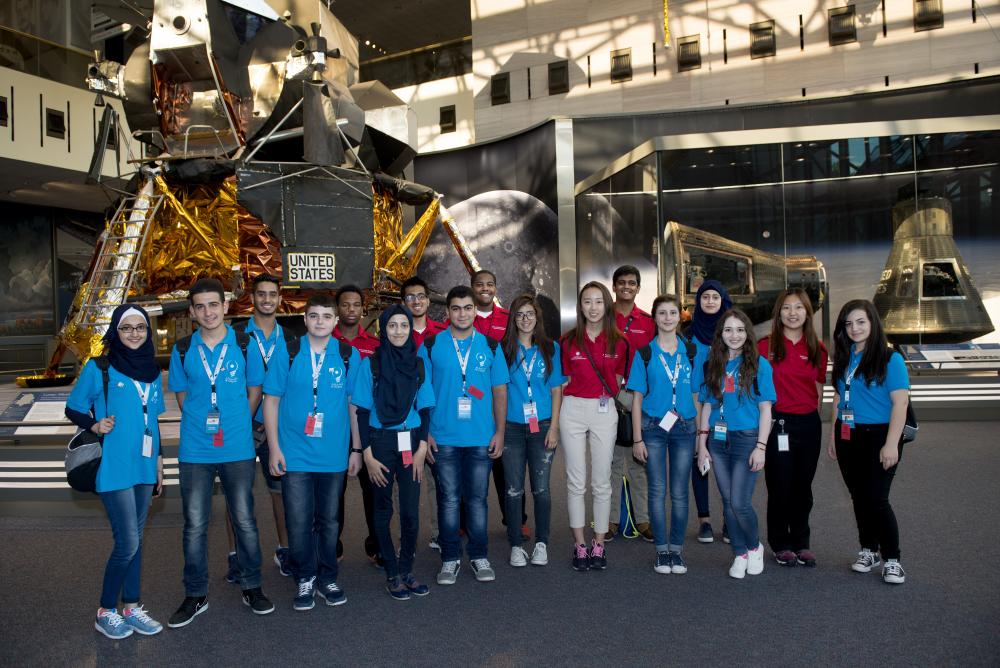 As Martin explained, students leave Washington with a significantly stronger sense of their own self-worth, especially in relation to the sciences. "The main thing that comes out of it is a much stronger sense that the kinds of things they have been doing that have value in their local community also have value over here," he said. "To see that their own intellectual work actually has some positive meaning over here in this context is very validating to them."
In the coming years, Al-Nayzak hopes to continue expanding the program so that more students may be involved.